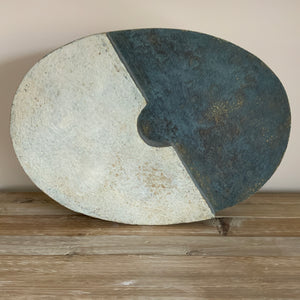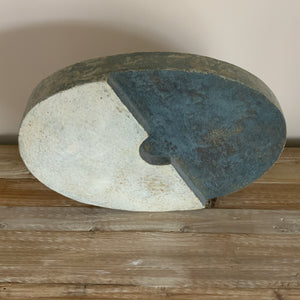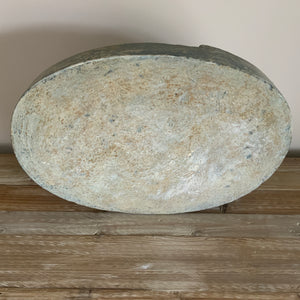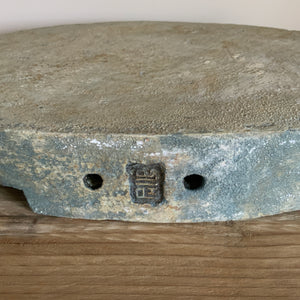 Wonderful ceramic sculpture hand-crafted by one of Britain's most eminent potters
Stamped with potter's seal to base
Dimensions: W44cm x H31cm x D7cm

MEET THE MAKER
Paul Philp (born 1941)
A master potter for over fifty years, Paul Philp makes vessels with an air of ancient civilisations about them.  He does not use coils or throwing, preferring to building each work by hand, a slow process that allows his pots to evolve naturally. For twenty-five years he lived in the seclusion of the Welsh countryside and even now he leads a simple, reclusive lifestyle that helps him to focus on his practice.  Expertly mixing clays and sands imbues his work with its distinctive surface texture, colours are chosen with restraint and tone is his palette. Each piece is unique in the length and number of firings and the finishing techniques it receives. Many being fired multiple times with different finishes until Philp is satisfied with them. 
Even as he enters his ninth decade, Philp is constantly evolving and refining his skills and ideas as a potter, seeking inspiration in ancient cultures, oriental art objects, geological finds and the natural world.  As he puts it, "I have in mind rugged, eroded surfaces, megaliths, fossils, ancient encrusted marbles and something of the quality of early Japanese ceramics".

DELIVERY
UK delivery is included.  International shipping will be quoted at cost.

Get In Touch
We want you to enjoy shopping with us, and we're only ever a mouse-click away.
If you have a question about one of our products or need help with an order, please email us: help@catesbys.co.uk or complete the form below and we'll reply as soon as we can.